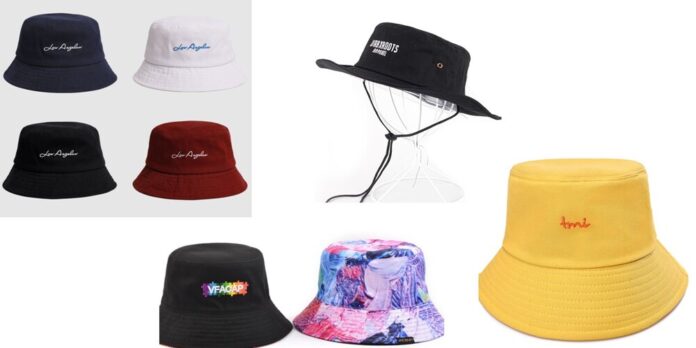 It's not just a bucket hat; it's a bucket hat with your name on it.
Every year, companies spend tens of thousands of dollars buying the latest clothing styles, only to be left with unsold merchandise by the end of the decade. Let's stop that cycle and invest in something durable and timeless!
Dress your head in the best custom bucket hats with the hottest styles, colors, and trends. Whether you're going to a festival, clubbing all night, or just day-drinking, we have the perfect bucket hat.
Let's dig deeper inside the details of the custom bucket hats benefits.
Prevent Your Skin From Sun Burning
If you are looking for something that will prevent you from getting sunburn, then look no further than the custom bucket hat. The custom bucket hat covers all of your head, not just your face. It is important because people often forget about their ears and neck when outside in the sun.
They are made up of high-quality fabric that is lightweight and yet strong enough to resist tearing or penetration. The fabric is resistant to water, moisture, and mildew; thus, it can be used in wet and dry conditions.
Enhance Your Style
Your own personal style is something that ought to be worn proudly. You need to wear a hat that can take you from casual to formal, cute to classy. It would help if you had a bucket hat that compliments your look and gives it extra pizazz.
Fashionable Product
Custom bucket hats are very fashionable. You can wear them on the beach or even at a parade. They come in many different colors and styles.
Custom bucket hats are also trendy among celebrities, like Kim Kardashian, who wear them on social media pages.
You can't walk in the summer without seeing someone wearing a bucket hat! They're great for the summer, and especially for all those beautiful people who have their style, it is perfect for any occasion.
Easy To Clean
The best part of the custom bucket hat is that it is easy to clean. Just throw your bucket hat in the washing machine and air dry, then you're ready to go. There's no need to worry about stains on the brim or sweat marks on the inside of our custom bucket hats.
Better Air Circulation
Custom bucket hats are designed to provide easy breathing and excellent air circulation for the wearer. They are very light in weight, are breathable, and have an excellent appearance. Custom bucket hats are great for better air circulation and keeping your head cool.
Unlike ordinary bucket hats, the custom bucket hat has extra ventilation holes on the crown to help air circulation. In addition, you can put a waterproof cover to protect the inside from rain or sweat.
Are Customized Bucket Hats Good For Business?
1. Effective Marketing Tool
Custom bucket hats for your company or brand can be a powerful marketing tool. A well-made and designed hat will reflect the image of your business.
The correct bucket hat will give your customers something to wear with pride and spread the word about you!
Custom bucket hats are an innovative and effective marketing tool for your brand, whether you are a sports team, non-profit organization, or business looking to engage customers and get them excited about your brand.
2. Better option For Giveaways
A custom bucket hat is one of the best choices for a giveaway and corporate marketing. Customized bucket hats can be imprinted with the name or logo of the company and attached with a brand tag so that they can be used as a cheaper alternative to a logoed cap.
So let's order your bucket hat now to avail of maximum benefits in this hot season!