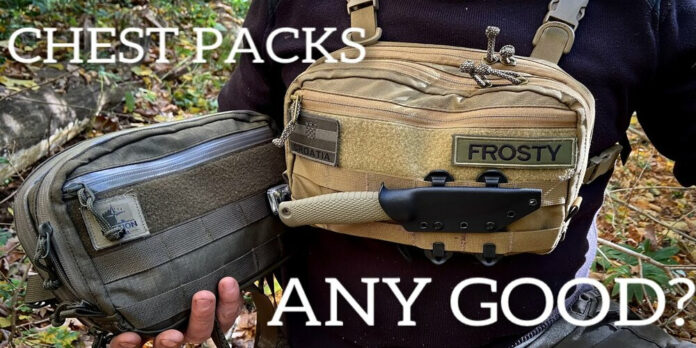 Reloading your rifle or handgun with a tactical chest bag is the fastest method. When you're out hunting or participating in any other kind of shooting activity, this bag carries your ammunition across your chest so that it's easy to get to. The finest tactical chest rigs provide storage space for additional types of tactical gear and magazines, such as flashlights and light sticks. This allows the rigs to hold more than just magazines. When you are required to pick the proper rig for your requirements, you face a difficult problem. Given the sheer number of brands on the market nowadays, it might be difficult to choose between all available features. On average, you need to take into consideration all of these aspects.
Things To Think About Before Buying A Tactical Chest Bag
If you are contemplating putting together a 72-hour bug-out chest bag, you probably even have a few potential emergencies in your imagination that you want to be prepared for, such as a major catastrophe, a nuclear war, a complete meltdown of civil society, or a spread of infectious diseases. These potential emergencies set the tone for the emergency preparations that you want to make. Maybe you reside in a place prone to earthquakes, or maybe a chemical factory is located near where you live. You may need to make preparations to withstand the consequences of a deadly storm or be concerned about the possibility of annual floods. Or maybe you want a tactical backpack because you think it looks cool and want to use it for your urban activities.
Your bug-out location should also be something you give some thought to. Do you call the big city your home or make your home in the country? Your destination for finding shelter will likely significantly impact both the outward look and the contents of the bag you bring. Others who live in cities will want a stealthy bag that doesn't bring attention to the fact that it is tactical. Still, people who intend to go trekking in the wilderness may desire a camouflage uniform and don't care if their bag has a military design.
Searching For A Tactical Bag That Has The Appropriate Capacity
A bag with a smaller capacity will be lightweight, but it will only be able to store as much as a higher capacity would. Consider purchasing a MOLLE-compatible backpack if the same tactical bag is used for both light-carry and heavy-carry missions. This will enable you to carry part of your gear from the outside of the bag in the form of pouches and other packs that link to the main pack. In any case, think about the following three alternatives:
Duffle bags with a tactical design. A tactical duffel bag has enough space to transport all necessary equipment to the firing range, training gym, or field.
Range bags. You may put as little or as much stuff inside your range baggage as you need for separate or multiple-day missions, based on the kind of range bag that you choose.
Baggage with a tactical focus. High-capacity tactical baggage that is MOLLE-compatible and has several internal and external compartments is an excellent choice for taking on extended journeys to the battlefield.
How To Choose The Appropriate Material And Appearance
The fabric you choose makes a significant impact when it comes to the capabilities of your tactical messenger bag or backpack. Look for bags that are composed of water-resistant or ripstop material. Because polyester and nylon can take in water, the garment you choose should include a waterproof lining if you want to use it in wet conditions. You should also take into consideration the following factors:
They maintain conformity with the rules and regulations of the military. The specifications for your defensive duffle bag, baggage, or range bag must be met.
It is keeping a low profile in a setting such as the wilderness, the desert, or a city. When it is difficult to locate cover, concealment is of the utmost importance.
Keeping your things secure inside. A hard case, as opposed to a tactical bag, is probably the better option for transporting fragile things, electronics, or firearms.