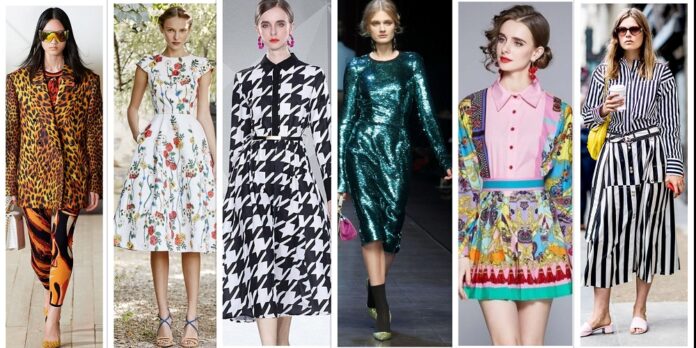 Deleting the weirdness of old fashion trends, the fashion market is now showcasing fresh and cool trends.
The latest trend is all about fresh, bold, confident, & stylish patterns to reinvigorate your gear.
Stop by to check our spring fashion collection; we've got for you a hyper-curated selection of fashion styles available at affordable prices.
But 1st, let's get into a quick detail of offered and trendy patterns!
Bold Stripes
This season the trend is going to be bold. Embrace defined and bold strips and read between them. Replacing the pinstripes, wide stripes are taking the style crown.
Currently, bold stripes are most popular than ever. This time you will see a lot more white and black stripes on the runway than bright, eye-catching stripes.
If you usually don't choose for prints, these monochrome stripes designs are best for your wardrobe.
To pack a real blow, go for colored accessories to make this print less boring according to the occasion.
Animal Prints
Animal prints, especially leopard prints, never fail to take a spot on the runways & 2022 is also the same.
Animal prints are groundbreaking, ever-classy, that will go with anything in your wardrobe.
Coming back in fashion, it's difficult to escape from zebra & cheetah prints not only on catwalks but everywhere on the streets.
Get ready to make these prints a part of your fashion line by taking inspiration from our latest collection.
Think about printed skirts, shirts, coats, or party wear or nail two styles in one to make it unique and stylish.
Sequins & Shimmer
Not only Christmas, make any day of the year shiny by taking sparkling outfits in your closet. After the sad and black COVID days of our lives, 2022 fashion trends are giving us more overwhelming and stylish than ever.
Well, if you are using accessories to make your outfit classy and sparky, then sequins and shimmer clothing styles are for you.
A sequined blazer is the easiest approach for shimmering fabric because blazers are always in trend regardless of the season.
Other than blazers, we have many more options to cover up your closet and elevate your look.
Top-To-Toe Color
Fill your closet with trendy, vivid, confident, and pop colors in specific shades of pink, blue, orange, yellow, green, and more.
Grab the attention of everyone by immediately brightening up your look with a top-to-toe colored dress and heels.
The amazing thing about this trend is that it gets along very well with every skin tone and body shape to make you empowered.
Check out our spotlight-stealing attire collection with countless designs and styles.
Bohemian Floral
Floral prints never go out of trend, especially in the season of flowers- the spring. Flowers show the beauty, renewal, and nature of the feminine side.
You will find endless options in floral prints not only on catwalks but also on all over the streets.
But 2021-2022 fashion trend is more towards adding petals in the floral pattern. This year the designers are introducing variations in rose prints clothing.
We have a wide collection of countless floral attire in different fabrics and designs.
Graphic Prints
Creativity has no end; graphic prints are now a part of the latest fashion trend, stepping into the game.
Graphic prints are limited to simplified shapes & patterns, but 3D graphic designs are gaining more and more admiration worldwide.
Check out our collection of graphic prints dresses to make your closet unique.